Wednesday at Daytona Bike Week
Wednesday, March 15, 2017 by Don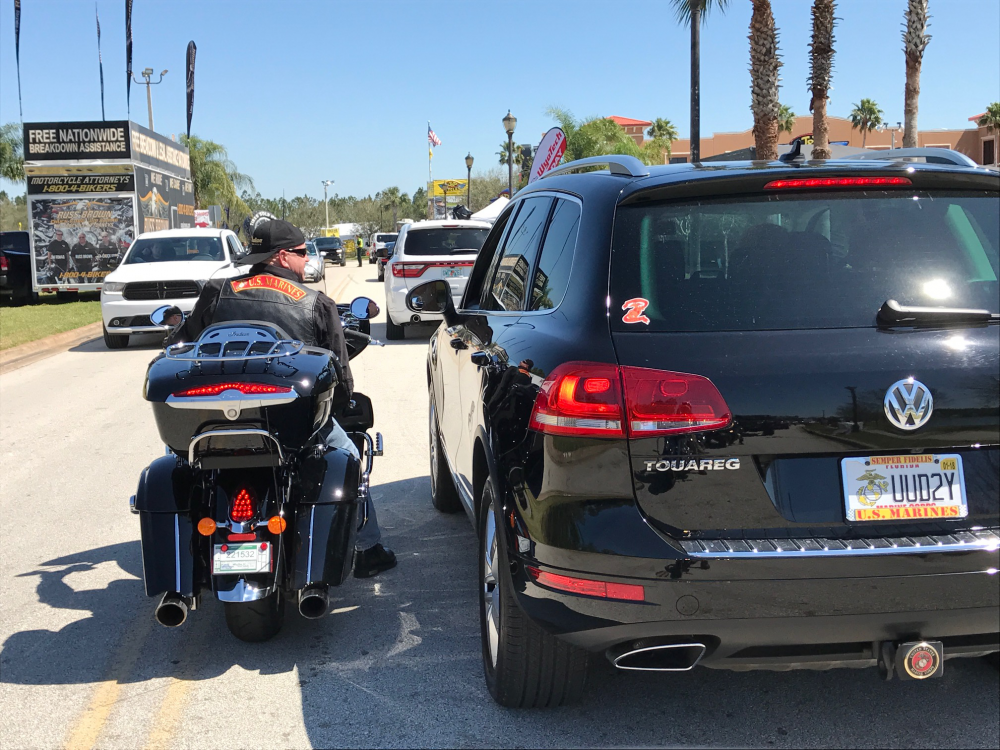 We began the day in pretty cold temperatures…44 degrees….I know…poor us! That's still a bit chilly on a motorcycle. We went to the Speedway to test drive the Slingshot. What a rush! Amazing machine! The photo is of Charlie in the one he test drove.
At the speedway, Charlie wanted to buy a backrest for his new Indian. We stopped at the Kuryakyn store and I met a salesman named Mark. Mark saw a patch on my vest and asked if I was a police officer. I told him that I had been quite a while ago. He is a retired police officer from New York. We had a great time sharing police war stories and I had the privilege of sharing the plan of salvation with him. I gave him a Gospel of John and my card so he could contact me if he had questions after reading it. The Lord also connected me with a retired police officer from VA and we had a great time sharing.

Next the Lord connected me with a retired lady named Ann from Maryland. Her husband Pete was nearby shopping for something. He recently retired and they sold their home and fled MD. They are in FL with their toy hauler trailer and trike for Bike Week. Then they are headed out across the country to tour the US! I shared the Gospel with her and asked if I could pray for her and her husband. She agreed and thanked me.

I got to share with a few more people and headed to Rossmeyer's Destination Daytona about 12 miles north. While we were waiting in traffic, Charlie and I were behind a vehicle with a USMC license plate and some Marine Corps stickers on it. Charlie put the bike in gear, cut in front of me and drove up to the driver's side window. The driver rolled his window down and Charlie has a brief conversation with him and gave him a camo Gospel of John. I WONDER WHERE HE LEARNED THAT?

A good part of today was spent meeting brothers in the Lord. We fellowshipped and I shared our ministry with a number of pastors who were also here ministering with the Faith Riders.

We are excited to see what the Lord has for us tomorrow.
---