Tuesday at Daytona Bike Week
Tuesday, March 14, 2017 by Don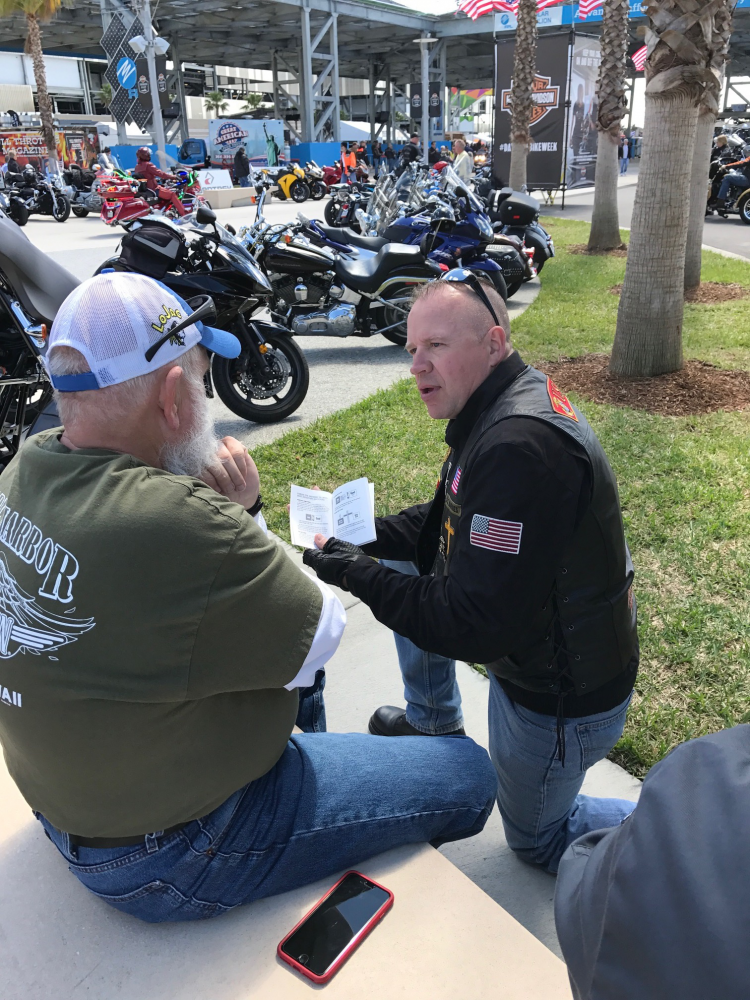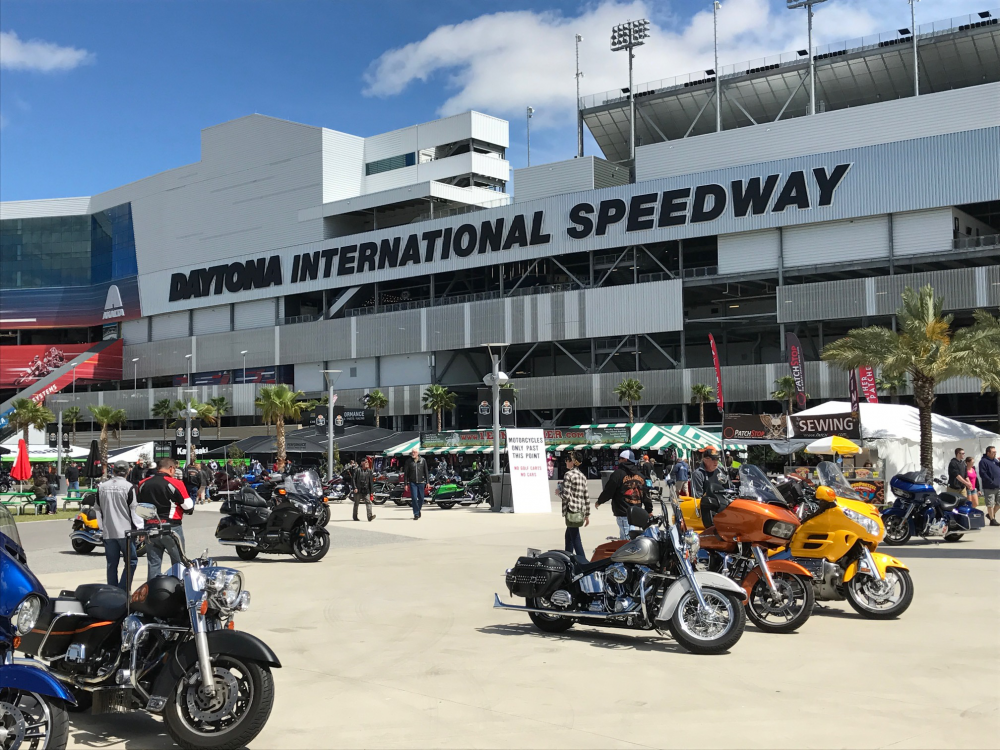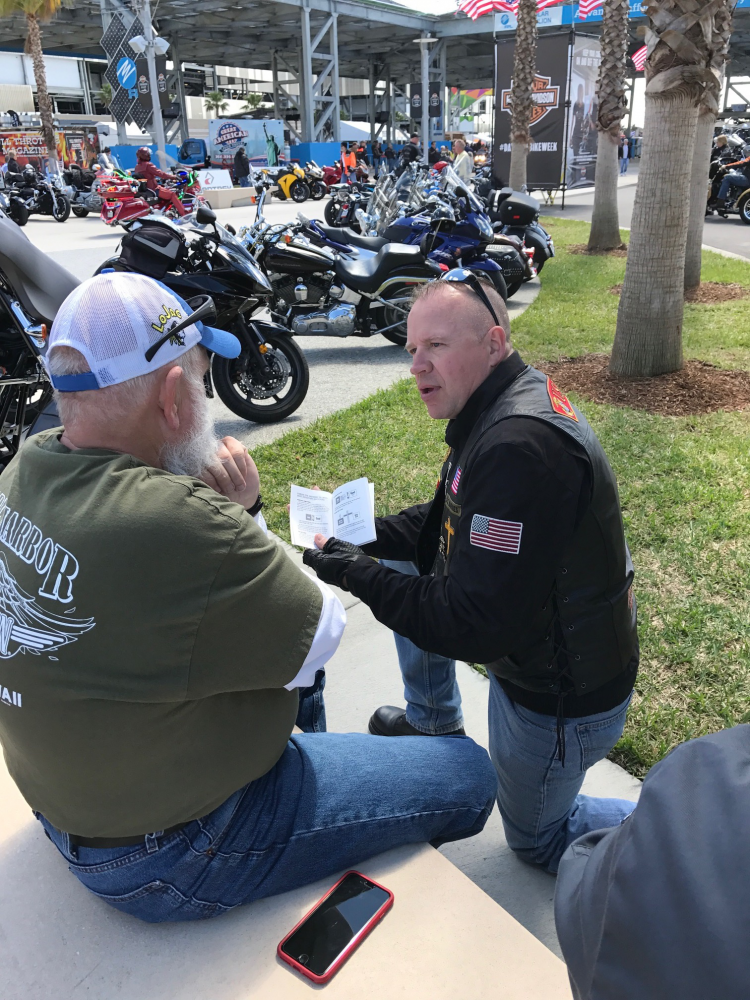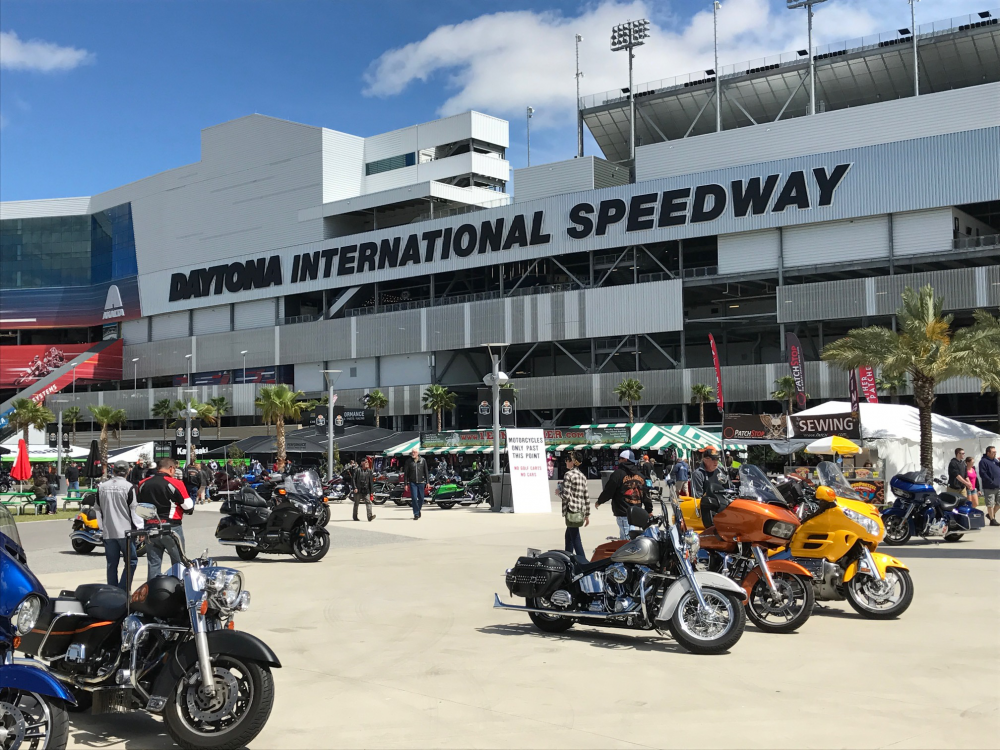 Today we met with Pastor Mitch of the Crosswalk Church here in Daytona for breakfast. We had a great time of fellowship with him and this too, was a Divine appointment. Mitch has a Marine vet in his church who survived 3 tours in Afghanistan. He returned home and was riding his motorcycle when someone pulled out in front of him causing an accident which paralyzed him. He is now confined to a wheelchair. He is having some struggles and it became evident that Charlie (my retired First Sgt Marine Corps vet/friend) needed to speak with this man, encourage him, and share the Gospel with him. Pastor Mitch said he would send Charley his contact info and speak with the young man before Charley called him. We prayed for our waitress named Jene and shared a Gospel of John with her.
We left and went to the speedway to walk through the vendor area. In the Indian vendor area, a young lady named Heather who works in Indian's Marketing Department in Minnesota came over to speak with me about their motorcycles. She opened the door for me to have a spiritual discussion with her. I shared the plan of salvation with her and gave her a Gospel of John to read. She allowed me to pray with her and she was very grateful that I did that.
I thank God for His protection. I had a VERY close call today. We were on Beech Street in Daytona waiting to cross the 4 lane road. They had one traffic person in the street to stop traffic and allow pedestrians to cross. She stopped the traffic and motioned for us to walk across. As I crossed the center line in the marked crosswalk with emergency cones, a car hit the horn and blasted past me. It literally missed me by about 6 inches. I felt it go by. The traffic person apologized repeatedly and said they normally have 2 people working each crossing but her partner was on lunch break. Pastor Ron commented that Jesus was not on lunch break and protected me from being killed. AMEN!
A while later, while Charlie and Ron were sharing the Gospel with a woman from Maine, a man named Leon and his wife Jane came over to me and wanted to talk about my Indian motorcycle. They were from Vermont and wintered in FL. In the course of conversation I was able to share a Gospel of John with them which they agreed to read later. I also spoke with three other men, two from PA and one from NJ.
At dinner, we prayed for our server and after dinner Charlie and I left the building and walked to our bikes. I was standing next to my bike with my back towards the car parked next to me. Out of the corner of my eye I saw the passenger door open slightly and I stepped away and apologized to the older lady in the front passenger seat for blocking her from getting out of the vehicle. She explained she wasn't trying to get out. She just wanted to talk with me about the Indian. She told me that her husband fought during WW2 and owned and loved Indian Motorcycles. She was so excited to be parked next to one at the restaurant. She told me that their car battery was dead and she was waiting for her son to come with a new battery. Her granddaughter Alexis (age 20) was driving and her other granddaughter Jaime (age 17) was in the back seat. I asked Norine (the grandmother) where she was from and she said, "Elmira, NY"! I told her that we lived in Prattsburgh for 4 years and that I was the Youth Action Director at Family Life in Bath. Norine became very excited with that piece of information. She told me she worked at Purolator, and I said that I knew where that was….on Route 14. She said, "Yes"! I asked if we could share something with them and they all agreed. I gave each of them a Gospel of John with the plan of salvation in the front and explained the Gospel message to them. The two granddaughters began reading the plan of salvation and the Gospel of John as we continued to speak with Norine. I asked them if I could pray for them before we left and they excitedly said, "Yes"! As I prayed, I thanked God for allowing the battery to go dead while they were parked next to me so we could meet them and invite them to go to Heaven. I prayed that the new battery would solve the problem and that they would read the Gospel and give their lives to Christ in repentance and faith. They thanked us and we left. WOW!
Charley and Ron also had many opportunities to share Christ today. We praise God for the amazing things He allows us to be a part of!
---