What an experience I had this weekend in Dumont, NJ
Monday, September 26, 2016 by Don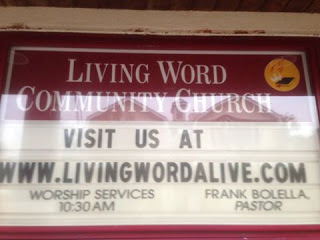 This weekend I had one of those rare incredible experiences while ministering in a church. I am truly at a loss for words as to how to describe my experience with the Body of Christ at Living Word Community Church in Dumont, NJ. From Pastor Frank on down, this group of people "ooze" the love of Jesus Christ. I saw joy on almost every face and a love for our Lord that blessed my heart beyond words. Their generosity, support, love and testimonies touched me deeply. I would't hesitate to recommend this church to anyone looking for a place to worship. You will be welcomed, accepted, and loved from the time you enter the building. I am looking forward to going back next spring to do a Walk thru the Bible OT seminar. All I can say is THANK YOU for making my weekend with you one I will never forget! We had close to 150 people attend the MAD Live Event on Saturday and 4 people gave their lives to Jesus Christ. PTL! On Sunday I preached and several more people got saved and the altar was pretty full as people made things right with God. Amazing! Thank you Jesus what for you did this weekend and for allowing me to be a small part of it.
---