Day 6 - Daytona Bike Week
Friday, March 16, 2018 by Don
Day 6 – Daytona Bike Week
This morning it was even colder…39 degrees, but we took our time getting ready and drove to the "Heffer" for breakfast. We got a prayer request from our server, Chris. We prayed for her a left her one of Gospels with a nice note and great tip. The temperatures began to rise and it ended up being a stellar day. Ron wanted to stop at the BMW/Triumph dealership in town, and we went along to see who we might connect with. As Ron was looking at bikes, I went across the street to Beech Street to the Vanderhall tent to sign up for a test drive. Timing was good so we would be able to take a test drive in about 20 minutes. I filled out the paperwork and called Ron and Larry and asked them to come over so they could do a test drive as well. These machines are 3 wheelers, made in Provo, Utah. They have car type controls and automatic transmissions. They have a turbo charged 4 cylinder engine that will rocket this little beast from 0-60 MPH in 4.4 seconds. They also have a manual mode transmission option so you can bang through the gears without a clutch. Ron hopped in with me and we began the ride. They have a leader in one macine and only 2 others to test drive. Larry got into the one behind me. As we pulled out onto the street, Larry didn't see us make a left turn so he guessed and made a right turn forcing him to go over the causeway…creating his own personal demo ride route…too funny. Anyway, this machine is incredible! The acceleration and handling are beyond compare! We completed the test drive and two police officers on bicycles stopped to check out the Vanderhalls. I went over, introduced myself, and shared a Police Gospel card with Officers Haley and Steve. It turns out Steve was born in Teaneck, NJ and lived in Wayne and Mahwah…what a small world, not far from where I grew up and served as a police officer. I asked if I could pray for them and they were both excited for that. I prayed, we talked some more and they left. I also got a chance to speak with one of the sales reps who happens to sell Indians and Vanderhalls as well.
We headed back to the dealership so Ron could finish looking at the bikes and he wanted to test drive one. So we agreed to sit and wait for his turn and his ride. Larry and I found a nice spot in the shade to sit and wait. He ended up sitting on the ground in the landscaping kind of taking up the position of a lawn ornament.
After the ride we headed back to our host's apartment to rest a little before our dinner ride down to New Smyrna. We had a fabulous seafood dinner at the Boston Fish House restaurant and prayed for our server, Shannon. She was thrilled that we offered to do that, and in the course of the dinner, we found out she is a follower of Jesus Christ. Ron was able to pray for 2 couples who sat in the tables adjacent to us, after he found that they were from the Syracuse area of NY. We then headed back to the apartment for the night.
Tomorrow we head south to have lunch with two old friends from NJ, then on to Pomano Beach for a MAD Live Event on Sunday. Thanks for your prayers!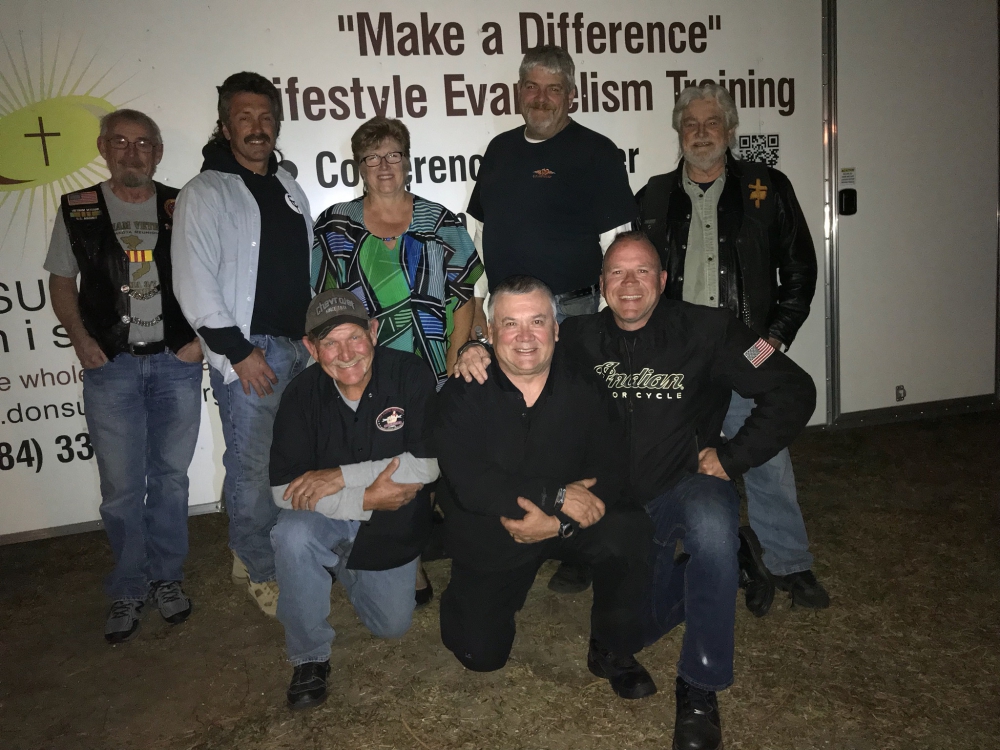 ---