Hello Brothers and Sisters:
God has blessed us with an incredible start to a New Year of ministry! We completed 5 MAD Live Events, equipping 805 people to begin sharing their faith in obedience to Christ! That is the second largest month we have ever had. We were also blessed to see 11 people come to a saving faith in Christ at January's events! All glory to God!! We surpassed a milestone this month as we have now equipped over 30,000 people at MAD Live Events! One of the events was done in partnership with Bill Graham's flagship radio station, "106.9 The Light". This was our 5th event with them and it was held in a "neutral" location - the Morganton Municipal Auditorium in NC. 525 people attended this event, 4 people were saved and we have many new leads for additional events as a result. Thanks to John Owens and his incredible staff for all of their hard work and support that made this event a huge success. We praise God for all He has done through us in January.
FEBRUARY - APRIL SCHEDULE
Feb 3 - MAD Live Event #543 - Sugar Mountain Baptist Church, Newland, NC
Feb 10 - MAD Live Event #544 - Beulah Baptist Association - held at Clement Baptist Church, Hurdle Mills, NC
Feb 17 - Speak at Iron Sharpens Iron Conference - Roanoke, VA
Feb 23 - MAD Live Event #545 - Gaston Christian School (High School Students), Gastonia, NC
Feb 24 - MAD Live Event #546 in partnership with "The Journey FM" - Bonsack Baptist Church, Roanoke, VA
Mar 3 - MAD Live Event #547 - Mt. Zion Baptist Church, Jonesborough, TN
Mar 4 - MAD Live Event #548 - South Clinton Baptist Church, Clinton, TN
Mar 10-17 - Share Christ at Daytona Bike Week
Mar 17 - Open date for a MAD Live Event in South Florida - Interested? Please contact me.
Mar 18 - MAD Live Event #549 - Grace Baptist Church, Pompano Beach, FL
Mar 24 – MAD Live Event #550 - Cornerstone Christian Church, Chatham, VA
Mar 25 - MAD Live Event #551 - Berean Baptist Church, Lynchburg, VA
Apr 8 - MAD Live Event #552 - Kelleytown Baptist Church, Hartsville, SC
Apr 15 - MAD Live Event #553 - Faith Community Church, Easton, PA
Apr 21 - MAD Live Event #554 - First Wesleyan Church, Roanoke, VA
Apr 22 - MAD Live Event #555 - Dyllis Baptist Church, Harriman, TN
Apr 28 - MAD Live Event #556 - New Life Farmville, Farmville, VA
Apr 29 - MAD Live Event #557 - Calvary Baptist Church, Erwin, TN
ULTIMATE ADVENTURE TRIP
We don't have enough people to do our trip this year, so we'll be postponing it until next year.
WALK THRU THE BIBLE LANDS (BIBLICAL TOUR OF ISRAEL) - Come with us!
For the first time, Walk thru the Bible is hosting a number of Holy Land Tours next year. Hopefully you are reading your Bible and praying daily. Think of how much more life change can happen when you spend eight days with trained experts and tour guides in the land where it all took place! As a Walk thru the Bible National Instructor, I have the opportunity to go for free if we can get 10 people to commit to go on the trip scheduled for June 1st to June 10th. If we get 20 people to go, Cathy would be able to go for free as well. More information can be found at www.walkthruthebiblelands.org. It is critical that you let me know if you plan on going on THE TRIP so we can keep track of how many are going.
DON SUNSHINE MINISTRIES OFF-ROAD THEMED COVER GOSPELS OF JOHN TO BE AVAILABLE IN LIMITED QUANTITIES
As you may know, we have created our own custom cover Gospel of John specifically targeted at off-road enthusiasts. We have counter displays at 13 locations so people may take one for free. Initially, we left 30 Gospels at each location. Praise the Lord we have had to replenish Gospels at most of these locations. Also, as of Jan 30th, a limited number of our Gospels will be available for purchase at www.ptl.org. This is a test quantity. If they sell out quickly they will consider another print and keeping them in stock.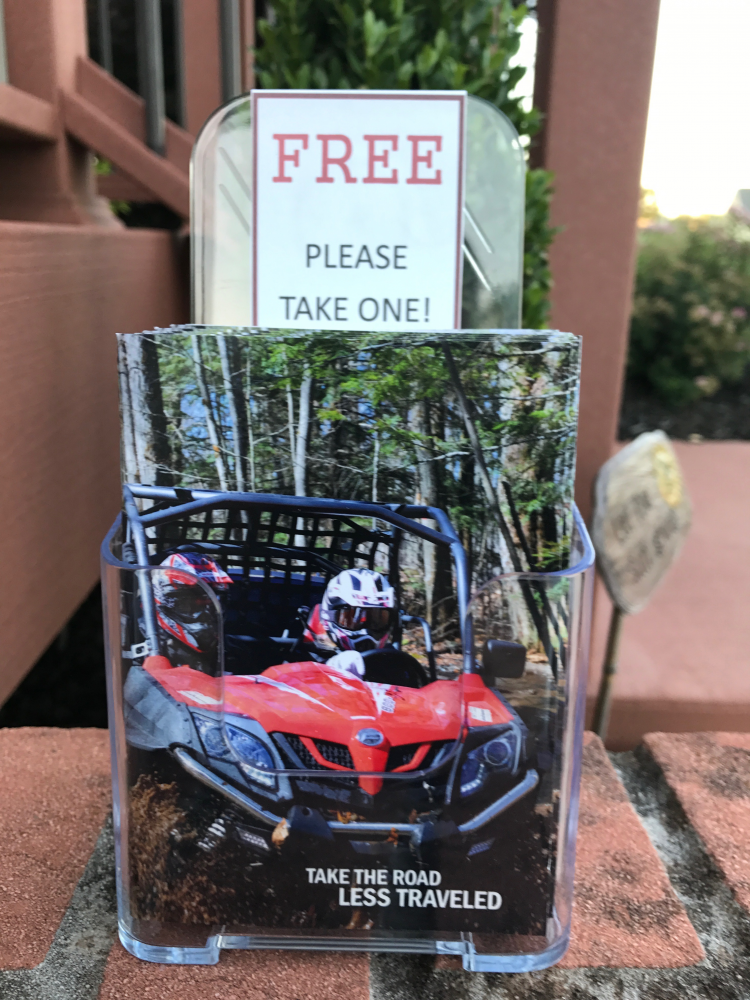 PRAYER REQUESTS
- For God to keep us healthy and flu-free as He has blessed us with a great schedule we want to complete.
- That God's Spirit would move powerfully in the hearts of those attending our events.
- SCHEDULE – thank you so much for praying. God has graciously answered our prayers and gave us a great schedule for the first 4 months of this year. Please continue to pray for our schedule to fill or the rest of this year.
- We have been blessed to have a Sister in the Lord translate our MAD Live Event into Spanish. We are in need of someone to present the MAD Live Event in Spanish speaking churches. Would you pray for God to bring us someone who could do this as we seek to expand the ministry?
- The week before our 2nd event with Liberty University's "The Journey FM" radio station (Feb 24), I will be speaking at the Iron Sharpens Iron Conference in Roanoke (Feb 17). Pray that the men attending the conference will promote the MAD Live Event in their churches which will be held the following Saturday in the same city.
Pray for a huge turnout for the MAD Live Event we're doing with The Journey FM in Roanoke. This is our 2nd event with them, and the first in Roanoke.
Love in Christ,
Cathy and Don